By Kimberly Perry | December 30, 2015
With 2015 behind us, let's celebrate the great progress we've made in our fight for democratic equality. From record-setting polling to HBO programming, this year's success is proof that if we band together and stand strong there's nothing we can't do.
SUPPORT FOR DC STATEHOOD AT A RECORD HIGH
According to a recent Washington Post poll, 67 percent of DC residents support Statehood as a solution to achieve equal rights, and more than 7 in 10 residents agree that Congress has too much control over the District's local affairs. It's empowering to have such strong support behind us here at home. And, in 2016 we'll build this level of support nationwide!
DC'S LACK OF VOTING RIGHTS FEATURED ON HBO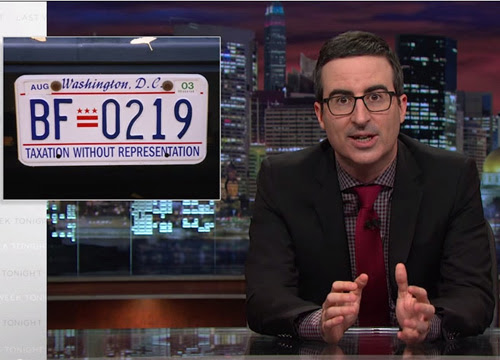 Over the summer, HBO's Last Week Tonight with John Oliver brought national attention to the injustice facing the residents of the District of Columbia highlighting our lack of full representation and the outrageous congressional interference in the city's local laws. We're extremely grateful to the Last Week Tonight team for featuring our cause. It was an honor to consult with the writers as they tried to tackle the absurdity of this complex topic.
FIGHTING BACK CONGRESSIONAL INTERFERENCE
For the first time in over 20 years members of Congress sought to use the disapproval resolution process to overturn a local DC law.
Senators Ted Cruz (R-TX) and James Lankford (R-OK) filed resolutions of disapproval attempting to overturn the DC Council's Reproductive Health Non-Discrimination Act (RHNDA).
Thanks to the dedication of our coalition members and supporters, not only did this disapproval resolution fail to pass the Senate, but attempts to sneak the legislation through as a rider in the appropriations process were also blocked.
MANY THANKS FOR MAKING OUR NON-GALA A SUCCESS
This year we decide to bypass event costs and host an online fundraiser. That way, we could direct 100% of the funds to our upcoming national campaign. And, with your help and support...we did it!Many thanks also go out to the Cafritz Foundation for matching gifts and contributions up to $15,000. The Non-Gala has truly been an amazing effort by our team to give our supporters a break from having to attend one more event, and instead just make an important contribution to a cause they care deeply about.
Here's to 2016!